Ten days after the terrorist attacks of September 11, the New York food had returned home to what would be the first professional sporting event to take place in the city since that tragic day. Almost 20 years later, the events of that night are still remembered as a pivotal moment in the healing of the nation.
Major League Baseball had canceled all of his games for a week after 9/11. Play would resume but the Mets would not return to Shea Stadium until September 21.
AFTER SEPTEMBER 11, GEORGE W. BUSH WAS CALLED TO THROW THE PERFECT PITCH AT THE 2001 WORLD SERIES
There was some hesitation until just before the first pitch. Was it too early? Were New Yorkers ready to fill a stadium and party? Was it even safe?
The unknown has consumed the minds of all players, including visitors Atlanta Braves.
"Should we be here? Is it too soon? We had a lot of apprehension, we had a lot of anxiety," said Mets wide receiver Mike Piazza. WCBS this week. "Terrorism was always on our minds, was always on our minds. A lot of fear of the unknown. We didn't know what was going to happen, we didn't know what the feeling would be."
CLICK HERE FOR MORE SPORTS COVERAGE ON FOXNEWS.COM
The Mets were losing as Piazza approached the plate at the bottom of the eighth. There was a runner on base and the normal pressures of baseball seemed insignificant compared to the pressure of giving New Yorkers something to distract from.
"I had a knack for concentrating and felt very calm and was able to slow down the moment," Piazza said.
He would hit the winning home run, arguably his most important home run.
As a dark Piazza circled around the basics as the crowd of over 40,000 hummed.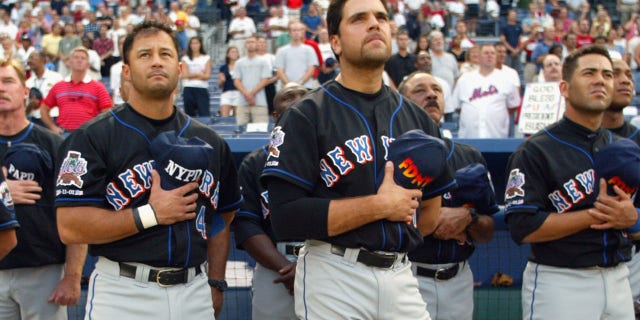 CLICK HERE TO GET THE FOX NEWS APP
"It was a release of emotion and people just wanted to be together," he continued. "People wanted to celebrate something and being in the right place at the right time is an honor."
Piazza was a hero in New York long before that moment, but his time with the Mets will always be highlighted by the legacy of that home run.